Terex TA300
The history of production of TEREX Trucks dumpers has been going on for more than 70 years. The machines are manufactured in Motherwell, Scotland. TEREX Trucks is a worldwide brand. TEREX Trucks dumpers are highly valued, thanks in particular to the manufacturer's experience, technical sophistication of structure, high reliability and low running costs. These are the arguments that only few today offer. TEREX Trucks has three types of articulated dumpers and four models of rigid dumpers in its production program.
The TEREX Trucks TA 250 - 300 - 400 articulated dumpers are modern machines that offer you the highest performance and reliable driving characteristics even in the most difficult terrain conditions. You will also be attracted by their comfortable cabin. The designers put great emphasis on the comfort of the machine, ergonomics, simplicity of operation and clear arrangement of information control panels. What convinces you most about the manufacturer's experience is how high a standard of equipment the TEREX Trucks articulated dumpers offer. Each of the three machine models comes with the 'Jacobs' engine brake with an optional brake performance using two, four or six engine cylinders as standard. As a result, the dumper crew only uses the service brake to stop the machine during loading, unloading, and when it is necessary to stop suddenly; the service brakes essentially have a service life level equal to that of the machine. This makes driving with this machine much more comfortable and convenient. In addition, all TEREX Trucks dumper models are also equipped with multi-stage gearbox retarders as standard. An interesting feature is the second seat in the operator's cabin.
PDF
Volitelná výbava ROKBAK RA30
---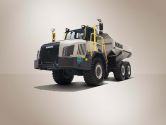 24/7 service
Our service network in the Czech Republic and Slovakia operates 24 hours a day, 7 days a week.